Description
Overview
It's right for you if…
You want to spare no expense on your e-MTB experience. You want the most adjustability, smoothest performance, longest range, and most high-tech electric assist you can get. You love customization and want all the cool features of the Bosch smart system, and you want wireless electronic shifting.
The tech you get
An upgraded OCLV Mountain Carbon frame with longer reach and oversized head tube and seat tube for maximum strength. An extra-long-range 750Wh battery, ultra-adjustable RockShox ZEB Ultimate fork, RockShox Super Deluxe Ultimate Thru Shaft shock, and SRAM XX1 AXS drivetrain. You get Bosch's new smart system Performance Line CX with a new Bluetooth® LED remote for easy connectivity and all-in-one navigation and activity tracking through the eBike Flow app, plus TyreWiz and AirWiz pressure monitoring.
The final word
Rail 9.9 is all about top-shelf tech. RockShox's best enduro fork, Bosch's biggest battery, the smooth shifting of XX1 AXS, an updated frame, TyreWiz and AirWiz pressure monitoring, plus Bosch's latest tech with smart system.
favorite_borderWhy you'll love it
Bosch's new smart system gives you all the same power and responsiveness with a new Bluetooth-connected LED remote and eBike Flow app that puts even more control and customization at your fingertips
TyreWiz and AirWiz let you confirm your tires, fork, and shock are at the right pressure at a glance. No more getting the pump or gauge out just to check
RE:aktiv with Thru Shaft works faster than a normal shock, so it tracks the ground better and keeps you in control
The new frame is extra stout with a 34.9mm seat tube to accommodate more robust dropper posts, and an oversized head tube that works with burly eMTB-optimized forks for less flex and more precise steering
Trek's Removable Integrated Battery (RIB) system looks great and is super user-friendly: it fully hides the battery in the frame for protection, makes it easy remove the battery without tools and lets you mount a water bottle cage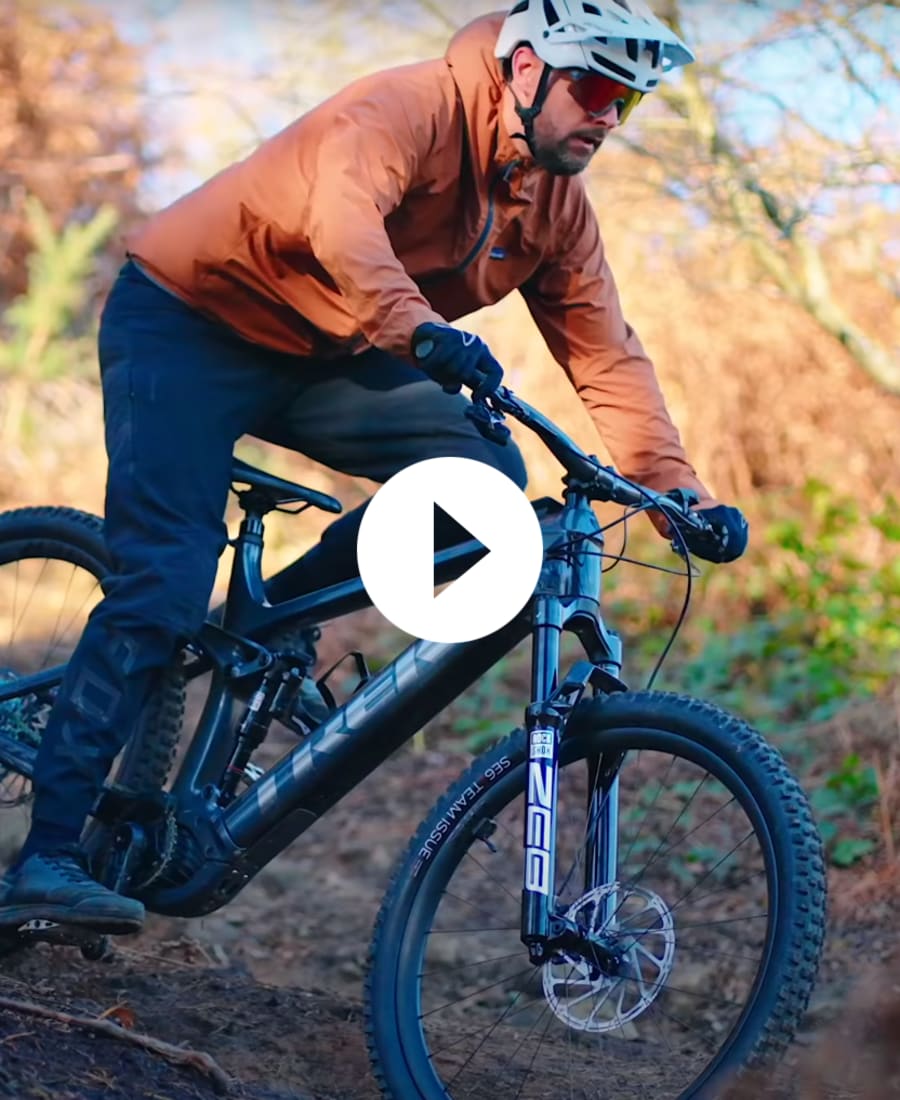 "I like it so much that I bought one"
Watch Rob Rides EMTB put the new Rail with smart system through its paces both on and off the trail, and find out why he liked it so much that he had to have one!
"One of the best"
"Indeed the way it manages to balance big-hit compliance while still giving good pop is mighty impressive. Along with its stout chassis, long wheelbase and burly build kit, the Rail is capable of monster trucking its way down some pretty gnarly descents […] the Bosch Performance CX Line motor is another key component to the Trek Rail's all-round performance. In our experience, this is the best full-powered motor out there."
Features
The new Bosch smart system gives you an eMTB that's more connected than ever. The new LED remote connects with the new Bosch eBike Flow app via Bluetooth. You get tons of useful features at your fingers, and over-the-air system upgrades.


The new eBike Flow app turns your ride into a personalized experience. Use it to customize your motor's assist behavior, track your ride stats, and integrate your data with apps like Strava and Apple Health. There's even handy features like navigation and service reminders.


RIB is a one-piece battery and cover with a built-in handle that can easily be removed and re-installed in the frame with no tools and no hassle. It's the most convenient way to remove your battery for transport, security, or just easier charging.


RockShox AirWiz and Quarq TireWiz
TyreWiz monitors your tire pressure while AirWiz monitors your fork and shock pressure. Set your desired pressure in the SRAM AXS app and then just check the lights before each ride—red means you need a pump, green means go ride.
RockShox Super Deluxe with Thru Shaft
With the all-new RockShox Super Deluxe Ultimate Thru Shaft, you get the most refined shock on the market, with an updated air spring and an exclusive Thru Shaft damper that gives you tenacious grip, plush control, and the support you need for ripping rough descents all day.


To see how far you can ride your electric mountain bike on a single charge, check out Bosch's range calculator. We've auto-filled the variables for this bike model and the average rider, but you can make adjustments to get your most accurate estimate.


This suspension calculator will help you optimize your suspension settings for your riding weight. Simply follow the steps to find your best set up.
Learn more
Tubeless Ready rims and tires make it easy to ditch the tubes so you get better traction, fewer flats, and less weight. You're ready to roll right out of the box with the included TLR rim strips, valves, and sealant.
Learn more
Every set of Bontrager carbon wheels is backed by the Carbon Care Wheel Loyalty Program. In the unlikely event that you damage your Bontrager carbon wheels within the first two years of ownership, we'll repair or replace them for free.


Learn more
Integrated speed sensor
You've got one less detail to sweat with the integrated speed sensor. The chainstay-mounted sensor stays protected while the custom hub-mounted magnet stays secure—no more error codes from mis-aligned sensors.
Fine tune head tube angle by 1/2° and BB height by up to 10mm with the simple turn of a nut. Just flip the link to choose between slack or slacker geometry, without negatively affecting suspension performance. A Trek exclusive.


Learn more
Knock Block has your frame's back when things go wrong. It prevents your handlebars from spinning all the way around in a crash, so your hoses won't get yanked, and your controls won't hit the top tube.
Learn more
Our patented Active Braking Pivot allows your suspension to work freely whether you're on the brakes or off. It's smooth, controlled suspension that's at its best all the time.
Learn more
Bosch Kiox 300 display
The Bosch Kiox 300 is tough, compact, and easy to read with a full-color display. Keep ride data right where you can see it including rider power, motor output, speed, remaining range, and more!
Oversized 34.9mm dropper post
Bigger is better. The oversized seat tube diameter gives more support and strength for longer travel droppers, and allows for more robust, durable internals that work faster.
Bosch PowerTube 750
Bosch's biggest battery for your biggest rides. PowerTube 750 delivers 20% more range and a long service life.
Integrated channels in the frame make it super easy to route cable housing and brake hose so you get a clean set-up with no hassle.
Watch video